Registration Process
A comparative assessment is performed, as much as possible, at the beginning of the application process. If the assessment indicates that a substitute is available for the product, the application procedure is terminated. This saves time and money.
Registration Process
After submission of an application for a product containing a candidate for substitution (CfS) a comparative assessment will be performed. The comparative assessment runs parallel to the regular application containing the CfS. A comparative assessment concerns for the uses (crop/pest combinations) applied for, the evaluation assessing the chemical as well as non-chemical alternatives.
 
The comparative assessment begins with the agricultural practice review of the NVWA. If this review indicates that no adequate alternatives are available, the comparative assessment is terminated. The Ctgb then continues the regular assessment.

The second step consists of a comparison of risks. The alternative should contribute to a significant lower risk (factor 10) to health or the environment on the CfS criteria that was met by candidate, and not have a greater risk on other criteria than the candidate. The criteria that identify a candidate for substitution are defined in Regulation 1107/2009 Annex II (4).

Refusal or withdrawal of an authorisation of a plant protection product in favour of an alternative plant protection product or a non-chemical control or prevention method is considered when
the alternative, in the light of scientific and technical knowledge, shows significantly lower risk to health or the environment;
the assessment of the alternative demonstrates whether the alternative can be used with similar effect on the target organism;
the alternative can be used without significant economic and practical disadvantages to the user.
Where the comparative assessment shows that an application qualifies for substitution, the comparative assessment will be forwarded to the Board. Subsequently, the Board will decide on refusal or withdrawal of uses (crop/pest combinations).

The comparative assessment is carried out on a member state level. Depending on national agronomic practices and risk mitigation measures, different approaches may be followed at member state level. as a first step of regular application of a PPP.

The timeline of a comparative assessement is set by the regular application for the product containing a CfS.
Timeline Comparative Assessment
The Comparative Assessment for a  product based on a Candidate for Substitution, runs parallel to the assessment for approval of a new application, extension of uses or re-registration. In the PPPR 1107/2009 no additional time for the comparative assessment is foreseen. The timelines are the same in case of an application with or without the comparative assessment.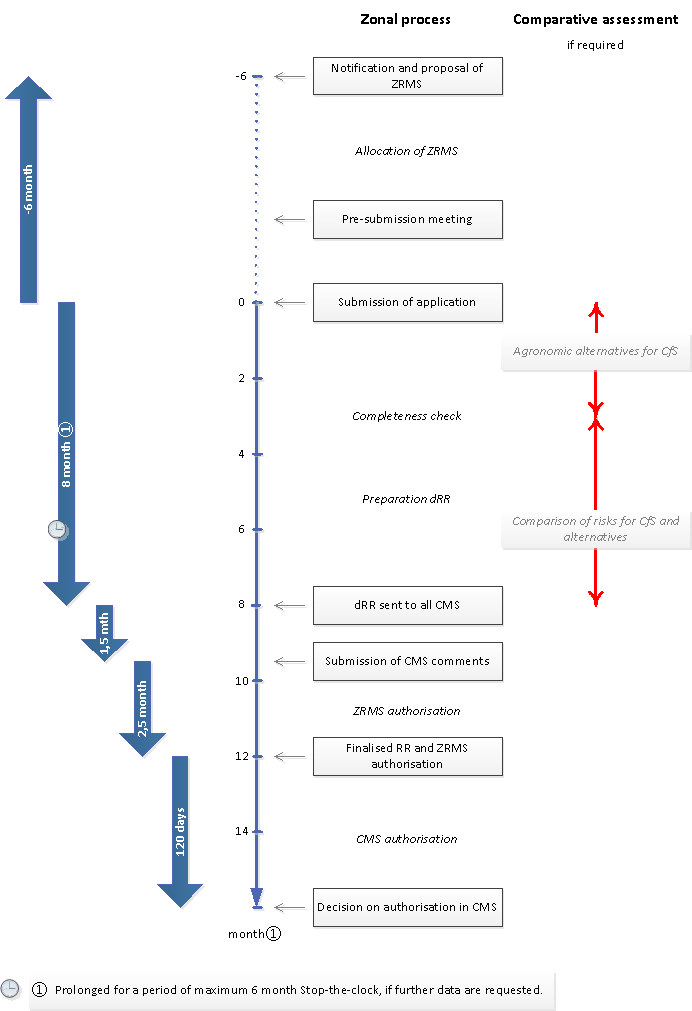 Timeline Zonal application (NL=zRMS)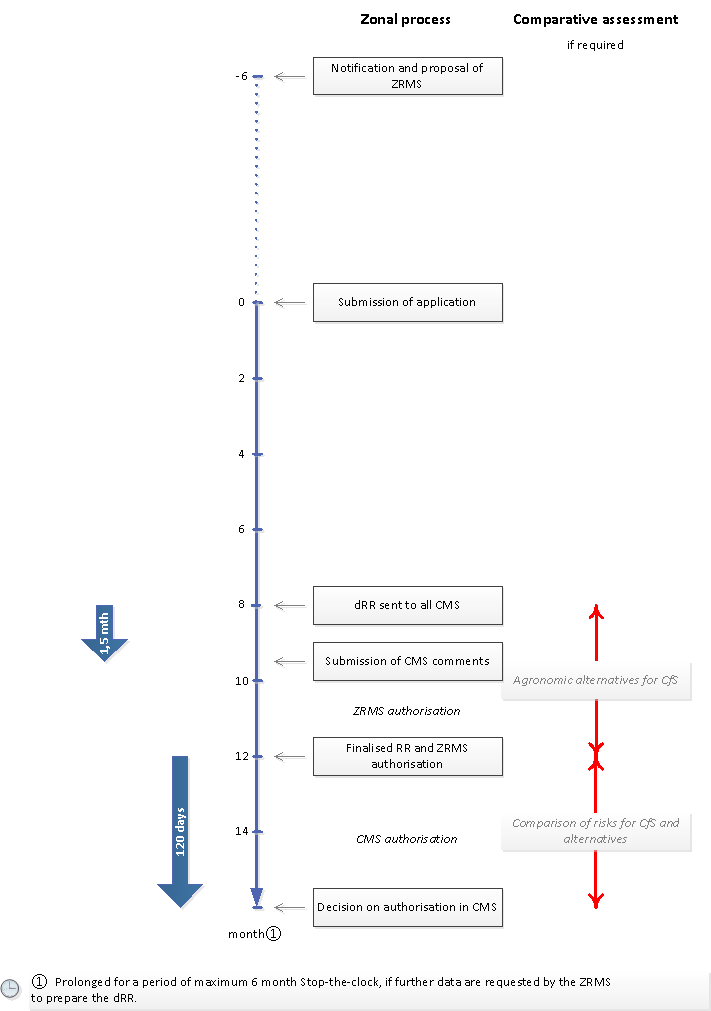 Timeline Zonal application (NL=CMS)